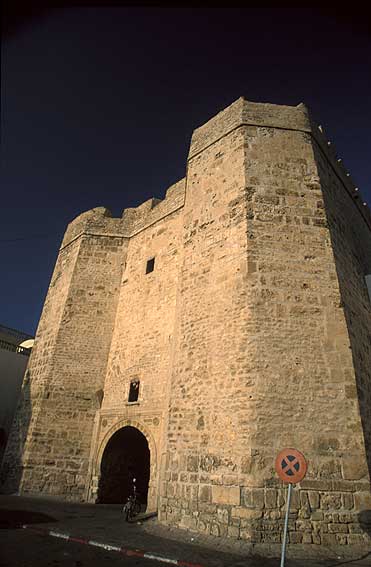 The penthouse Kahla Mahdia of the most prominent historical landmarks in the capital of the Fatimids and back built to the early fourth century of migration and are believed to be constructed by order of the Mahdi, the founder of the city in the period ranging between 303 and 308, corresponding to the beginning of the tenth century AD which is between 916 and 921 AD They represent the main tower of the wall of the wild .
It consists Penthouse Kahla or door Zewailah as also known among Mtsakna city of Mahdia Tower of measured height of 18.50 m, while the measured display about 12:00 and measured depth of 12.70 m ... by a covered walkway leads directly to the markets continue to at least 33 m and a width not exceed 5.10 meters and was this corridor contains a 6 iron gates before they enter this teacher many modulations after the demolition of the walls by the Spaniards who attacked Mahdia year 1555 and was the last modifications made ​​to the penthouse Kahla has been the year 1893.
As stated in the book of one of the historians Spaniards the naming door Zewailah Balsagifah Kahla is due to the presence of a kiss Zlme within the corridor while dating others matter to the color black, which covers all the walls and still this teacher archeological after hundreds of years upright the city center and a magnet for foreign tourists who come to Mahdia for a long history of the Fatimid state.